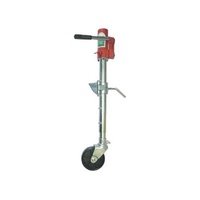 Trail A Mate Hydraulic Jockey Wheel Jack Caravan Motorhome RV Trailer Parts
INCLUDES FREE COVER
$ 349.00
Description

TRAIL A MATE HYDRAULIC

JOCKEY WHEEL

It is a Hydraulic jockey wheel that converts in to a jack when you need it. You simply swap the wheel for a solid base plate. The key features of the Trail-A-Mate are as follows:

Capability - WLL 1,000kg / ATM 2,900kg

Versatility - Easily converts from a jockey wheel to a jack

Ease of Use - Being hydraulic it takes very little effort to operate

Safety - Fully complies with the Australian mandatory safety standards (2693:2007)

It has many applications and uses as you will see below such as Caravanning, Horse Floats, Trailers, Food , Motor Homes (the list goes on). It is even used by the Australia Defence Force - four Trail-A-Mates are used on each corner of a vehicle that carries a telescope so it can be safely leveled on un-even ground. It is an extremely versatile product.

In addition to its versatility we have spent many years perfecting and refining the Trail-A-Mate to be as safe and easy to use as possible. Leading up to 2007 we were working with the Australian Government to assist them in introducing a Mandatory Safety Standard for Caravan and Trailer Jacks. Each year in Australia around 160 accidents are linked to the misappropriate use of vehicle jacks. Deaths and injuries ranging from amputation and fractures to crush injuries, result from vehicles falling off vehicle jacks, so don't risk using an un-approved jack.

F.A.Q'S about the Trail-A-Mate

1.Can Trail-A-Mate be fitted to my caravan?

Yes, Trail-A-Mate has been designed specifically to fit cara, trailers and horse floats into the existing jockey wheel clamp.

2.Can the brackets for the jacking point be fitted to my caravan or trailer?

Yes, almost all cara built over recent years have a cross- member at the rear of the axles strong enough to accommodate the brackets, which must be welded on. However, over the last couple of years, the majority of caravan manufacturers have fitted the brackets which create the jacking points for Trail-A-Mate as standard equipment.

3.If I purchase a Trail-A-Mate, do I need to buy a separate jack?

No, the Trail-A-Mate is designed to be used as both a jockey-wheel and a jack, minimizing the need to carry unnecessary equipment on holidays with you.

4.Will Trail-A-Mate lift my six metre caravan?

Yes, Trail-A-Mate will lift a six metre caravan high enough so you change both wheels on one side of the caravan at once should you have to. However, it is recommended should you have to change both wheels together, the caravan should be supported using appropriate vehicle support stands.

5.My six metre caravan has an aggregated mass (ATM) of 2,900kg, can I still use the Trail-A-Mate?

Yes, Trail-A-Mate has a Working Load Limit of 1000kg. When you are jacking the caravan using the Trail-A-Mate, you are not lifting the entire weight of the caravan, you are lifting approximately 1/3 or less of the vehicle weight at each of the jacking points. If your trailer has an ATM greater than 2,900kg you will need the Trail-A-Mate MkII.

6.If I get a flat tyre, will I still have to climb underneath the caravan to jack it up?

No, Trail-A-Mate is designed so that it is operated from a standing position, using a minimum amount of effort, preventing you from having to climb underneath your van, making it not only easier, but a much safer option.

7.How high will my Trail-A-Mate lift fully extended?

The Trail-A-Mate has the capacity with the base plate fitted, to lift from as low 6 inches (150mm) above the ground to a height of 20 inches (500mm) in one straight lift.

8.I have limited mechanical knowledge, what happens if something goes wrong with my Trail-A-Mate?

Trail-A-Mate has been designed so that even a person with a very limited knowledge of hydraulics could repair the unit by following some very basic instructions

Specifications

| | |
| --- | --- |
| SKU | 9338034000002 |
| Model # | |
| Barcode # | |
| Brand | Trail A Mate |
| Artist / Author | |
| Shipping Weight | 14.0000kg |
| Shipping Width | 17cm |
| Shipping Height | 15cm |
| Shipping Length | 74cm |
| Shipping Cubic | 0.018870000m3 |
| Unit Of Measure | |
| Assembled Length | 0.000cm |
| Assembled Height | 0.000cm |
| Assembled Width | 0.000cm |
| Type | |
| Format | |

Warranty

All items sold on awardrvsuperstore.com.au come with the Manufacturers Standard Warranty, these warranties can vary depending on the product and manufacture.

Exceptions - If the item is ex demo or factory refurbished the listing will state warranty that is being offered.

ment

Award RV Superstore via will take the following ments

- pal

- pal Express

- ment via Collection from our Superstore - Located at 924 Burwood Hwy Ferntree Gully VIc 3156

For Direct Deposit

Account Name - Award RV Superstore

Bank - CBA

BSB - 063000

Account Number 11774567

Please use your user id as the reference details

Delivery

POSTAGE

We ship via Australia Post eParcel, eParcel Express and Sendle to get your package to you as soon as possible. Depending on your purchase we may choose to ship via a different method such as a courier. This is a at the discretion of Award RV Superstore, you will be advised of any changes

Once the package is shipped, we will send you the tracking number via an and Australian Post so you can know when your package will be arriving on your doorstep.

If you have any questions about your package, please contact us via Messages with the Item Number and Your User Name.

If the Item you have order is not covered under insurance it is you resposibility as the cusmer to advise if you require Insurance.

Please note - Estimated delivery dates as advertised via - are not aGuaranteethat your product will arrive on the date advertised

Returns

Our Returns Policy is in addition to your rights under the Australian Consumer Law.

We are happy to refund your goods if you are not satisfied with your purchase, providing it meets the terms and conditions listed above.

When returning online purchases you are responsible for the associated costs to return the goods back to us, unless the goods are deemed to be faulty or the return is authorised by Award RV Superstore

Please return to:


Award RV Superstore

924 Burwood Highway

Ferntree Gully VIC 3156

Attentions : Online Returns Department

When sending your product back to us by post we do recommend that you use the registered post as Award RV Superstore will not take responsibility for items not received, unless the item has been registered and a proof of delivery can be supplied

The purchase price of the goods will be refund, the refund of postage will be the discretion of Award RV Superstore.

The refund will be processed on the original method of ment, immediately once the refund is authorised. The time it takes to appear on your account will depend on the policies of your banking institution.

No Product return will be accepted unless Authorised by Award RV, this will done by an RA number that must appear on the address label. If this number is not included on your label we will not accept the goods.

We cannot provide refunds in our Physical Store or supply a credit note for use in our Physical store.

If goods are received without an RA number, your goods will be not be accepted by our warehouse.

Pick up

Pick ups are available from:

Award RV Superstore

924 Burwood Hwy

Ferntree Gully Vic 3156.

Phone: 03 9753 5511

Our store hours are:

Monday to Friday - 9am to 5pm,

Saturday - 9am to 4pm,

Sunday - 10am to 4pm

About

Award RV Superstore was founded in 1995, we are a 100% family owned, our Director Rod Francis and Renee Francis are the founders.

Rod Francis says,

"we started off as a humbled beginning in our garage and 12 years later we are largest camping, caravan and outdoor retailer in Australia. The growth of this family owned and operated business can be attributed to the fact that the staff have had over 75 years combined experience in the caravan industry, and combined with the fact we have the best products on the market at the best possible price has proved a winning formula with our cusers"

Award Annexes was started by Rod Francis in 1990, catering to the growing demand for on site accommodation at caravan parks throughout Victoria. It was not long before he realized that there was also a growing demand for caravan and Motorhome accessories in today's market.

The company grew rapidly and in 1994 moved in the present showroom/factory complex in Ferntree Gully, and is now the largest supplier of Aluminium Annexes in Victoria. The company has now diversified into Motorhome, 4x4 and Marine Accessories which are now a large part of the business with mail order a specialty.

The growth of this family owned and operated business can be attributed to the fact that the staff have had over 30 years combined experience in the caravan industry, and combined with the fact we have the best products on the market at the best possible price has proved a winning formula with our cusers.

In July 1995, Award Annexes expanded to create AWARD RV SUPERSTORE. The company took over the adjacent 4 warehouses and expanded its accessories and the size of its store. With more staff and expertise Award is now able to answer all your RV needs.

DECEMBER 10TH 2011 saw Award RV Superstore become the largest caravan and camping accessory store in the Southern Hemisphere. With over 3000 square meters of accessories at 924 Burwood Hwy Ferntree Gully, all your caravan and camping accessory needs will be fullfilled.

Our location at 924 Burwood Highway, Ferntree Gully is the largest store of its type in Australia, we stock everything you will need to enjoy your campng, caravan or motorhome experience.

Come and visit, you will be surprised.